Loba is a light. She inspires us with profound wisdom gained from her deep listening to the natural world. While many of us are busy with crowded schedules and media mania, Loba and her partners live in the Gila wilderness where their lives are deeply blended in the dynamic cycles of nature. They are beacons to us; they remind us of the joy, ease, and, ecstatic wonder of being human. I am grateful for these Magic Canyon mysteries… and Loba, the sweet daughter of the Earth, performing her alchemy. I am blessed. I am blessed more. I am heaped with blessings from the canyon and those who love it, and those ancestors who loved it for thousands of years."
-Justine Toms, New Dimensions Radio
LOBA has been a codirector of the Animá Center for a decade and a half now. As a young woman she literally followed her dreams home to New Mexico, where she found her true self, her power and her calling. She's widely known for the writing of Sweet Medicine Stories, a much cherished regular feature of the popular SageWoman magazine (see Loba's writings page), and her angelic voice and canyon-inspired melodies can be heard on the GaiaTribe album "The Enchantment". Loba's amazing recipes are featured on the Animá Blog, along with her regularly updated tales describing her day-to-day, magical canyon life. Both elements can be found in her upcoming book of recipes and stories of personal growth and wilderness homesteading: The Enchanted Pantry. It is in person, however, that she has the greatest and deepest impact, her hard earned truths exceeded by her thorough engagement, expressive gratitude, compassion, empathy, sweetness, devotion, strength and joy… serving as a shining role model for everyone she meets. The wondrous feasts she creates for Center guests inspire conscious engagement, awakened sensuality, connection and gratitude, and usually end up being a major component of their experience here. And her teachings as well as palpable caring often have a profound effect on the participants of the various Animá events. Letters continue to arrive years later from those who credit her guidance and example.
"I feel born of the Earth, born into self, born to live again. I'm feeling like an individual, a person with a core…. Awesome! Loba is a bright new, crisp, windy Fall day that is blowing away darkness from my soul and lifting me into the happiness of the universe beyond."
–Suzanne Mahoney
One of the partners that sustains herself on the land, and assists in nurturing Anima, is Kiva Rose… I find her to be wise, inspiring, inquisitive and kind…and surefooted, as she walks the land and learns from the green growing things. This woman lives off the land, and stokes the fires for living a life of passion and grace. She has a way of making you feel as if you sit right beside her, sipping a cup of delicious tea as she shares with you her understanding of herbs, her respect for the land she walks.
-Kimberly Arana, Herbalist, Propriatress of The Blessed Thistle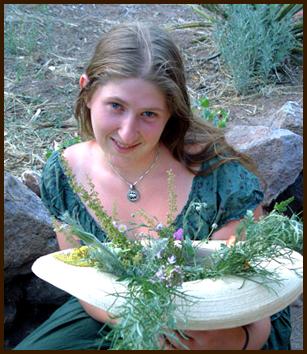 KIVA ROSE is an Animá codirector, powerful counsel and insightful teacher, impassioned poet and inspiring author, esteemed herbalist and cofounder of the Animá Medicine Woman Tradition. A brilliant child who never quite fit in, she dealt with parental abuse and gender violence to grow up into a woman of incredible insight and strength. She is responsible with her partner Jesse Wolf Hardin, for co-creating the curricula for the Animá correspondence courses and personally teaches the Medicine Woman and Herbal paths. Kiva has garnered international attention for her inspiring and informative Medicine Woman's Roots blog, and like Loba, has been praised for her quarterly Wild Maiden column in SageWoman magazine. Her powerful essays and poetry have appeared in numerous publications including Awareness, The Sun, Slow Trains Literary Journal, The Beltane Papers, Creations, Vision Magazine and Eclectica (see Kiva's Writings Page). She deserves additional acknowledgment for her artistic designing and regular maintenance of this Animá website, creating posters and display ads, and taking over the work of planting native species as part of our USFWS conservation project. Kiva joins Loba in leading women's group events and vision quests at the Center, provides online Healing Consultations to both men and women, as well as in-person and online Counsel to any applying women. Handling the majority of correspondence, she's the person you'll most likely hear back from when you query about any of the various Animá opportunities. Kiva is loyally wedded to this purpose and place, guaranteeing the passing on of these glad duties and important teachings, and the continued protection of this precious canyon sanctuary.
"Kiva is a wise medicine woman, teacher and healer whose gentle integrity is truly an inspiration. I honor her strength, her consciousness, her wisdom…"
-Ivy, on Tribe
"Jesse inspires our passion to take us further­ seeing the world whole, even holy."
-Terry Tempest Williams (author of Desert Quartet, Red and others)
JESSE WOLF HARDIN is well known in various esoteric circles as a unique and powerful artist, musician, historian, writer and presenter, as well as the founder of the Animá Teachings. He was responsible for the purchase of the canyon property in 1981, its subsequent ecological restoration, and the 1987 founding of this educational project. Beginning in 2001 he initiated and assisted its transition into being, in part, a wilderness women's center, and is especially honored to have helped found and develop the Medicine Woman Tradition and courses. Jesse currently teaches the Animá Shaman Path, Rewilding and Path of Heart correspondence courses, while continuing to give talks at various conferences and gatherings, provide online and in-person counsel, and guide any men or boys who come here for a vision quest. He is the author of 7 books and over 500 published magazine articles on subjects from nature wisdom and personal growth to Western history and the pleasures of gathering, cooking and enjoying fine foods. Noted historian authors have recommended those examples of Jesse's writings that combine stories of the American Frontier, the sporting tradition and insights into the human psyche. Likewise, luminaries and visionaries including Ed Abbey, Joanna Macy and the Pulitzer Prize winner Gary Snyder have lauded his work on the human/nature relationship, and his concert performances have been praised by musicians from Baba Olatungi to Paul Winter of the Paul Winter Consort. He additionally does much of the photography and all of the artwork for this site, and occasionally accepts commissions to create hand drawn logos for different enterprises or projects that he believes in.
"Jesse Wolf Hardin addresses the need of human beings to search within themselves, and within their bioregions, and to make the connections that may save our sanity, and the planet too. I know of no-one more thoughtful or articulate or inspiring."
-Jerry Mander (author of In The Absence of the Sacred)